PROPRIETOR
BHS SCCH (Senior Coach in Complete Horsemanship) BD Accredited Trainer UKCC level 3
British Dressage Accredited Trainer. Group 3 dressage rider. Verity has trained to and competed at Prix St Georges and Inter 1 on Debutante (Abi) - see horses. Verity is currently training Escade (Eddie) who has changed career from showing to dressage and Westpoint Rococo who will shortly be out competing BD. She has recently also been working with Brickyard Splash (Splash) competing him in his first Medium BD tests.
Qualified First Aid at Work.
Verity has been the Owner of Witham Villa since 8 October 1992.
Verity was the winner of the British Dressage Steele Salver in 2010 and has represented the Northern Region at the BD Senior Home International riding for England on 3 separate occasions.
Winning Instructor of 17& Under, 18 and Over BHS National Riding Schools Championship and 17 & Under Dressage Championship
She has also previously competed in Affiliated Show Jumping to Newcomers, and Horse Trials at Pre-Novice level.
Runner-up in the Leicester Mercury Women in Business Awards in the Entrepreneur of the Year category in 2017 .
Verity now specialises in dressage training, with a holistic approach. Lessons on your own horse, or on one of the Witham Villa schoolmasters. Lunge lessons available. Verity is a passionate coach, keen to develop all horses and riders to achieve their individual goals in a progressive manner.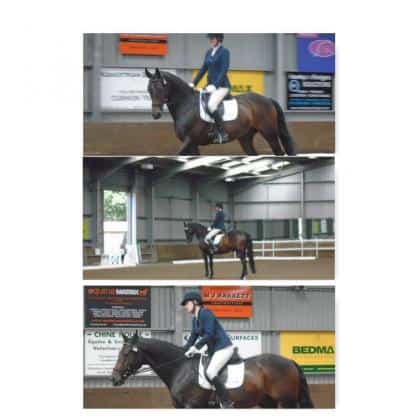 YARD MANAGER
BHS PTT, ESFAC, Child Protection NVQ 2 & 3
Alison was welcomed back into the team in September 2010. She had worked here as Yard Manager previously, before having her daughter and then running a private livery yard.
As well as the general running of the yard and teaching, Alison is involved in the training of the horses at Witham Villa and has competed on our own Crossdrum Dexter in dressage. She is now competing on V (Victor) in Affiliated dressage at Elementary level. In her first season she qualified for the Petplan Area Festival, finishing in 5th place with 66.4%. The pair are now qualified for the BD Summer Regionals at Elementary Silver, and are about to start out at Medium Bronze with the aim of qualifying for the Area Festival at that level
OFFICE MANAGER
BHS CCH, NVQ Assessor/verifier
Jess has a wealth of equestrian experience having worked full time with horses previously in various yards, including riding school and racing.
Jess now works part time at Witham Villa and deals with administration and organisation, accounts, HR, and general riding school matters.
YARD SUPERVISOR
BHS Stage 3 Care, lunge, ride. BH stage 2 Teach, ABRS ITA, NVQ III, H&S cert, 1st aid, CPC
Serina joined Witham Villa having worked in both England and the USA in large studs and competing national standard in the UK and USA in western riding and showing.
Serina teaches at Witham Villa and supervises the running of the yard. She also assists Verity with the dressage horses.
Serina schools horses and ponies that are at Witham Villa.
She currently competes at Affiliated level in British Dressage with Monty (Monsoleil) at Elementary level. They qualified for the Summer 2013 Regionals at Prelim and the Winter Regionals at Novice. Serina and Monty were Sheepgate Tack and Togs national Prelim champions in 2013. They qualified for the Summer 2014 Regionals at Elementary and again in 2015and 2016. They are qualified for the Elementary Silver section for the 2017 BD Summer Regionals and are now going out to compete at Medium Bronze with the aim of qualifying for the Area Festival.
YARD SUPERVISOR
BHS Stage 3 Care, lunge, ride. BH stage 2 Teach, ABRS ITA, NVQ III, H&S cert, 1st aid, CPC
Kelly joined us on a trainee scheme, she had ridden with us prior to starting work and has now achieved her NVQ 2 in Horsecare and Riding and her NVQ 3.
She enjoys working with her clients, both children and adults and seeing them enjoy their lessons and make progress.
FREELANCE INSTRUCTOR
BHS SCCH CPC Equine Specific First Aid Riding & Road Safety Examiner
Helen has been involved with Witham Villa for over 10 years. She was employed as Yard Manager prior to leaving to set up on her own as a Freelance Instructor.
Helen has her own horses that she competes in dressage and eventing, She has qualified for the British Dressage Regionals on numerous occasions, and finished 10th at Windsor in the BHS Instructor's Challenge. She has competed in British Show Jumping at British Novice and Discovery. She has evented at pre-novice level.
Helen has a very good empathy with her riders and helps them achieve harmony with their horse and is keen to see them progress.
FREELANCE INSTRUCTOR
Louise has showjumped affiliated riding her old mare, "Hole in One", starting out at British Novice, competing all round the country and going up the ranks to competing at Foxhunter level.
She has competed Encore Soleil (Solly) in affiliated dressage from Prelim through to Elementary level and the pair qualified for the British Dressage Elementary Restricted Summer Regionals 2015.
Louise has headed up a Riding School team in the BD Team Quest competition series 2014, competing in the Novice section.
Louise also has her own show jumping horse, Coco Van Het Eelshof (Coco B), who she currently competes in british Showjumping affiliated competitions. She is now also competing her successfully in Affiliated dressage. They qualified for the Elementary Silver BD Summer Regionals in 2017 and are now through to the Petplan Area Festival Semi-Finals at Medium Bronze having come 3rd at Sheepgate Area Festival. Louise has just competed in her first Advanced Medium competition
She is a passionate coach and is keen for her riders to achieve their personal goals.
FREELANCE INSTRUCTOR
BHS CCH, BD Recognised Coach, CPC, First Aid
Micky has had a long association with Witham Villa, riding here since 2006 and stabling her two competition horses here now.
Since the age of 14 she has trained with Verity Saul, who has been her primary coach and mentor ever since.
Michaela's main vocation is competing in dressage; she has two competition horses Houndsfield Billbow and Topiary, both competing up to BD Medium, she has competed them both at major championships and been selected for both the BD Northern Senior Inter Regional and the Senior England Home International teams.
When not competing she's studying for professional equine exams, currently revising with Verity for her BHS Stage 4. She is focused and driven; She has already gained her BHSAI and UKCC Level 2 Coaching Certificate. She has a nurturing and encouraging nature that builds a rider's confidence empowering them to achieve their goals and targets.
Micky coaches riders of all ages, abilities and disciplines both at Witham Villa and also her own private client base.
FREELANCE INSTRUCTOR AND PONY CLUB COACH
UKCC L3 CPC First Aid
UKCC Level 3 (Generic); Leicestershire and Rutland Sport – Go Gold Talented Coach Coach/Instructor, and Witham Villa Pony Club Centre Coordinator.
Amelia has been working at Witham since 2009, building the Pony Club Centre memberships. Members from Withamhave won and competed at Area and National Championships over the past 5 years.
Amelia has a wealth of knowledge having been an Instructor since 1989. She passed her first UKCC coaching certificate in 2008 and in 2014 has passed her UKCC level 3 exams one of only four people to hold The Pony Club UKCC Level 3 Generic exam, she is part of the Leicestershire and Rutland Sport – Go Gold Talented Coach Programme and is the only Equestrian Coach in the scheme. She coaches freelance and works at county, regional and national level, was on the Pony Club Mentoring Team at The Pony Club Championships and is B test examiner. She is training members up to their A test as well as BHS exams and coaches all levels and ages from children to adults from grass roots level learning to ride right up to BE, BD, BS Nationals and Pony Club Championships. Pupils she has worked with have won from the local Riding / Pony Club right up to national titles.
She is an experienced event ride herself, having been a member of the bronze medal winning Great Britain team at Pony European 3DE in 1987 (France) and Junior European in 1989 (Switzerland). She evented to BE Advanced CCI*** and competed up to BD Medium, BS to JA ponies and Grade C on horses, has ridden at HOYS, RIHS and many National/Regional Championships. The next qualification she is working towards is UKCC Level 3 (British Eventing).
FREELANCE INSTRUCTOR
BHS CCH
Tracey originally worked and trained here at Witham Villa for her BHS qualifications.
She progressed to the position of Yard Manager before leaving to work for herself in a freelance capacity.
Tracey now teaches at Witham Villa.
INSTRUCTOR
BHS CCH, BHS First Aid
Kate joined the team at Witham Villa in November 2016. She has worked in Riding schools previously and been involved in trekking, hunting, showing, breaking and schooling young horses. She has competed in show jumping and cross country and is now looking to further develop her dressage skills and start to compete in this discipline.
TRAINEE INSTRUCTOR
BHS Stage 1 Complete Horsemanship, BHS Stage 2 Care, Lunge, Ride Dressage and Ride Jump
Kate joined the team in 2017 and is studying for her BHS stage 3 and Assistant Instructor Since joining us she has achieved her BHS stage 1 and BHS stage 2 care.
APPRENTICE
BHS Stage 1 Complete Horsemanship, BHS Stage 2 Care
Tamzin joined us in 2017 and is studying for her BHS exams
APPRENTICE
BHS Stage 1 Complete Horsemanship
Megan has ridden with us since a child and we are really pleased she has now joined us on an apprenticeship - during her apprenticeship she will study for her NVQ certificates and her BHS exams.
We are delighted to report that Megan has now passed all elements of BHS Stage 1 and is now training for BHS Stage 2
NICOLA MONKS
FREELANCE INSTRUCTOR
BHS CCH, First Aider
Nicola has spent most of her life around horses taking the opportunity to ride her daughters advanced horse whenever possible.
She thoroughly enjoyed training for the BHS Qualifcation. Her initial training was at Brooksby Melton College. Nicola then moved onto train with Nick Creaton (BHSI & BHS Chief Examiner).
Nicola is a BHS Accredited Professional Coach and teaches riders of all ages and ability and thoroughly enjoys seeing riders progress and grow in confidence.